Fortnite (Free) continues to be the hottest thing, not only since sliced bread, but since someone decided to put a piece of cheese between two slices of bread and toast it. Unfortunately, as we've seen so many times before, when something gets ultra popular there's no shortage of folks looking to do whatever they can to cash in on the phenomenon. (It's even happening locally in the Chicago area here, with these indoor trampoline family fun centers doing Fortnite-themed lock-ins.) Potentially the most egregious example of folks looking to cash in on Fortnite mania was the "Fortnite Live" festival which was held at the Norfolk Showground, just outside of Norwich in the United Kingdom.
As pointed out by The Guardian, Fortnite Live was able to draw a large crowd of people who paid £12 to get in along with an additional £20 bracelet (roughly $41 USD combined) for unlimited access to all of the "attractions". What were the attractions? Super boring carnival rentals, with almost nothing to do with Fortnite aside from signs naming different areas after locations in the game.
@EDP24 fortnite live event. 1 climbing wall between 3000+ children. 4 go karts between the same amount, nobody dressed up as characters, people still queuing 2hrs after gates open. Absolutely awful #fortnite #fortnitelive pic.twitter.com/D8laYvzbpG

— #OfficalMarcSmith (@marc0835) February 16, 2019
These attractions included the climbing wall above, a "cave experience" which was a trailer that had a tarp over it, a tiny stage for dance competitions, and an inflatable llama hidden away in the corner. Apparently thousands of people showed up to this event, staffed by only eight people, including folks who drove significant distances and stayed in hotels.
I think they could of done more, but at least a refund has been given for wristband, but have said they will offer refunds for tickets pic.twitter.com/aFRq46218W

— #OfficalMarcSmith (@marc0835) February 16, 2019
The sad part about all this is that it's inevitably going to result in Epic cracking down on who uses the Fortnite brand name more than they already are. It's totally reasonable for someone to see a "Fortnite Live" festival and think, "Oh hey my kid likes Fortnite, it's a good game so this will probably be a good event," only to show up to this disaster. It makes Epic look bad, even though they had absolutely nothing to do with it.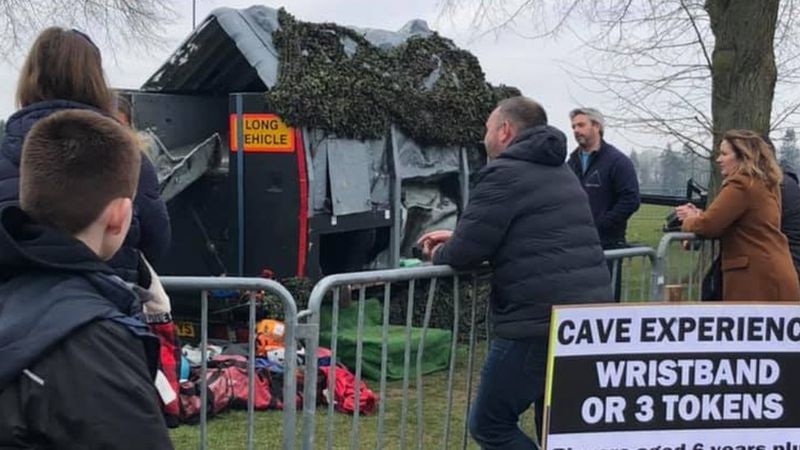 How about that cave experience, eh?
[via The Guardian and The Independent]
from TouchArcade https://toucharcade.com/2019/02/18/the-fortnite-live-festival-was-a-disaster/