Hello gentle readers, and welcome to the SwitchArcade Round-Up for March 1st, 2019. We've got a huge number of new releases to look at today, along with a mind-boggling bunch of sales to look at. As usual, I've got summaries of all the new games and a completely disorganized list of discounts for you to digest, along with a couple of news nuggets. Let's see what we've got, shall we?
News
Pauline is Now Available in 'Mario Tennis Aces'
Mario's first girlfriend has been having a pretty good go of things in the last few years. She had an important role in Super Mario Odyssey, and now she makes the scene as a playable character in Mario Tennis Aces, an outcome that is almost entirely due to fan demand. Mmm, awkward tension on the court. Now that's the kind of tennis I remember. Anyway, update your game, fire it up, and go and add her to your roster. There will be more playable characters coming in the future, too.
'Phoenix Wright: Ace Attorney Trilogy' Arrives April 9th, Digital Only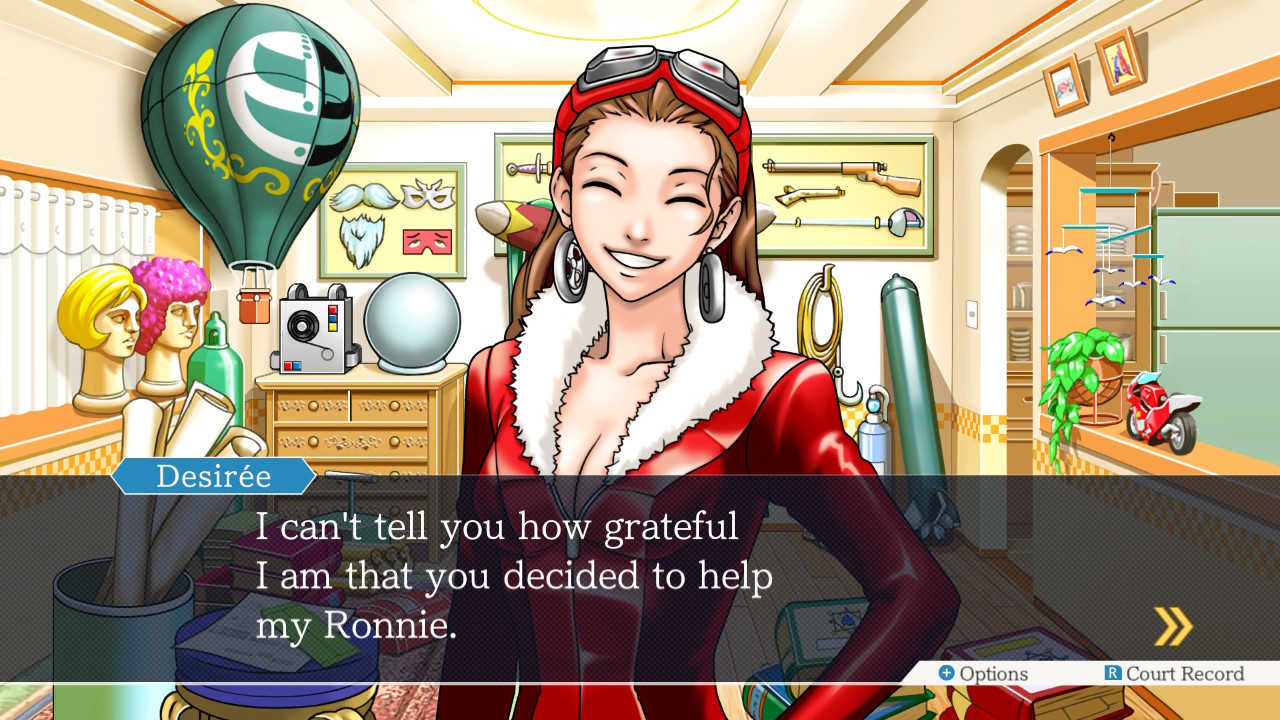 While we haven't seen a lot of new stuff from Capcom on the Switch, the company sure isn't shy about getting its classics on the system. Phoenix Wright: Ace Attorney Trilogy already released on Switch in Japan last week, so we knew it wasn't going to be too long before it came out in the West. We now have a date, and it's April 9th. The game will be available only as a digital version, and it will cost $29.99. That said, if you really want a physical copy, the Japanese version does have full English support and is region-free. You don't even have to wait for it. Well, I'll leave it up to you.
New Releases
Space War Arena ($14.99)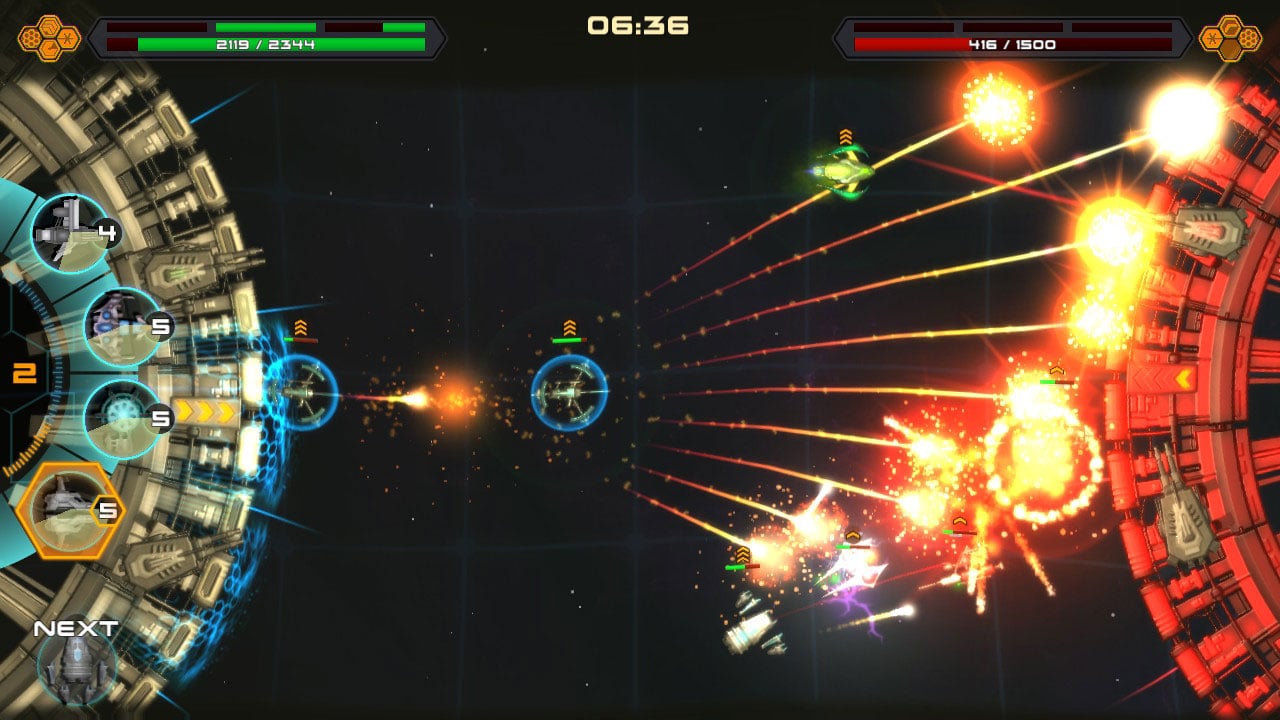 So hey, remember Spacewar!? You know, one of the first video games ever? Well, this game is inspired by that. It obviously builds on the concept in a lot of ways, though, so it's certainly its own thing. It's sort of a deck-building armada-builder strategy game. You can play with a second player locally or you can go through the solo campaign against AI opponents. There are 20 different kinds of ships to build your fleet with, so there's potentially a lot of room here for interesting tactics. And that's really as much as I can say at a glance.
ACA NEOGEO The Ultimate 11: SNK Football Championship ($7.99)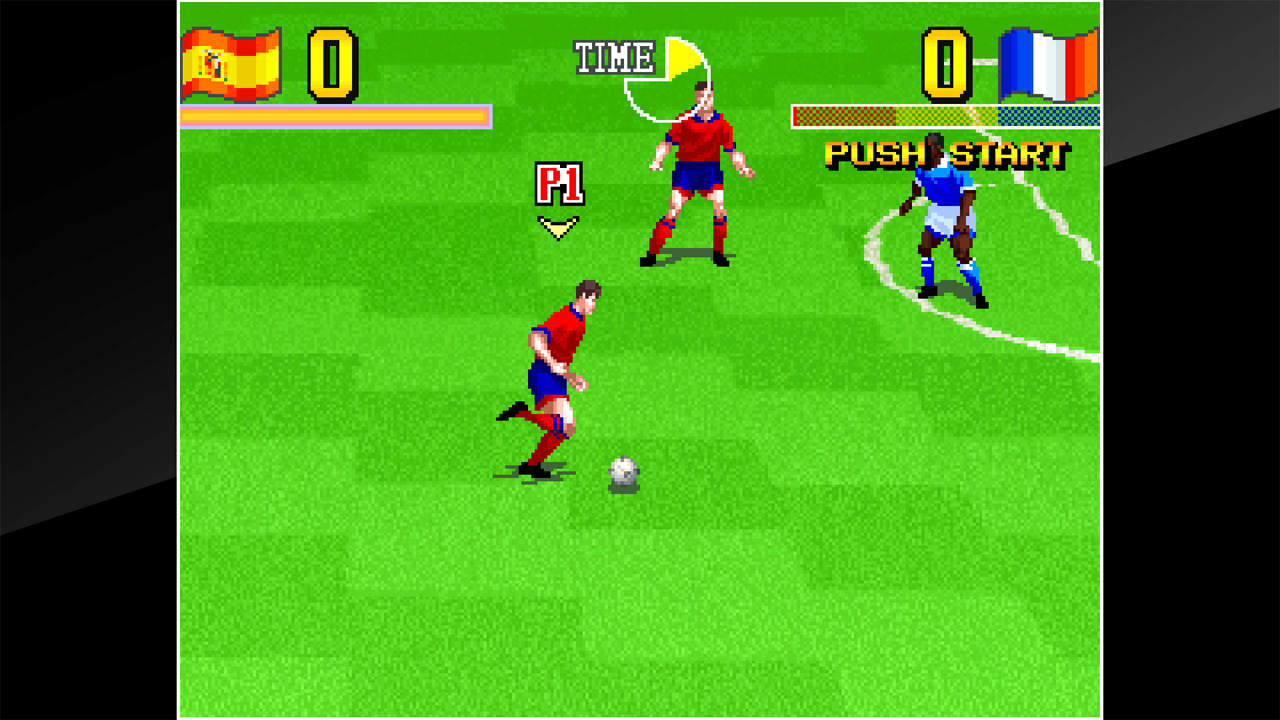 Well, that title probably won't fit the normal page formatting. Can't do much about that, I suppose. Anyway, we are getting to some deep cuts here as far as NEOGEO games go. This is a soccer game originally released in 1996 and sometimes known under the title Super Sidekicks 4. It's the final game in said series on the NEOGEO, though whether or not it's the best is an exercise best left to the reader. It's a fine little arcade soccer game regardless of its standing in the series, so if that's what you're looking for, you'll get it here with all the usual Arcade Archives features.
Treasure Stack ($19.99)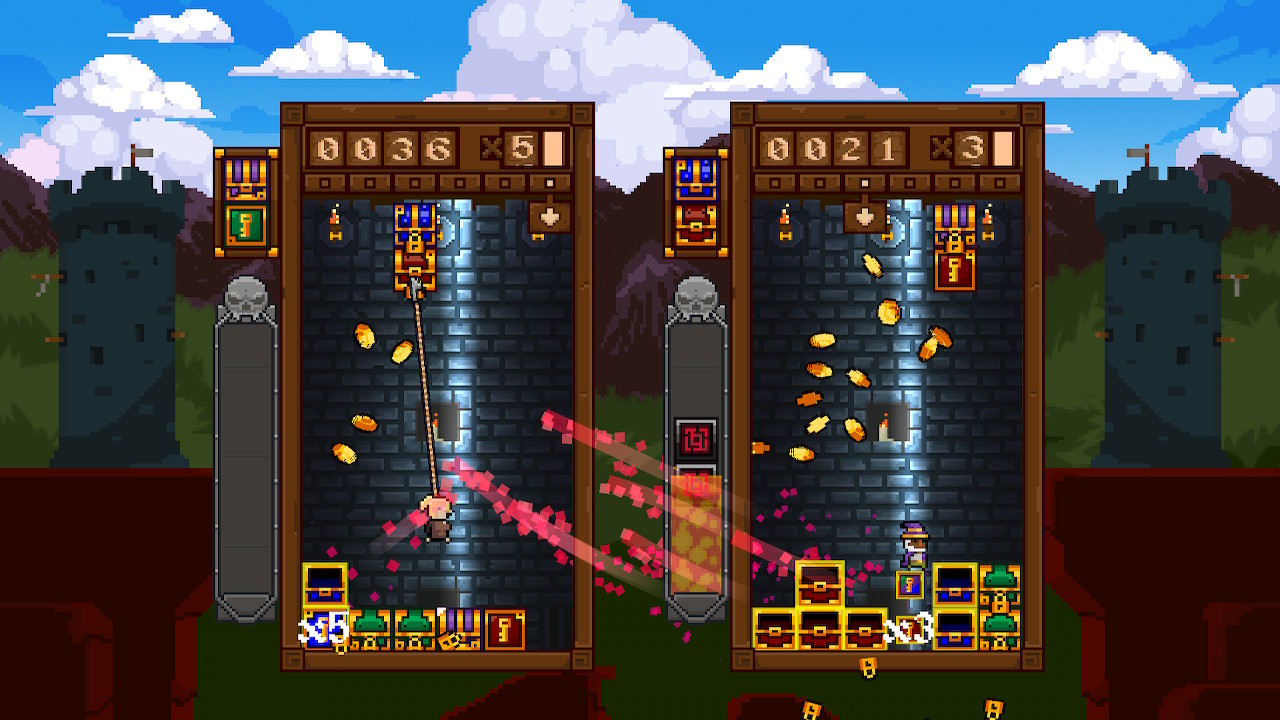 SwitchArcade Highlight!
If you've been waiting 25 years for a follow-up to Wario's Woods, this is somehow miraculously your lucky day. The core gameplay in Treasure Stack is almost identical to that late-era NES title. It's a falling block puzzle game where you control a character on the field who has to pick up and move the blocks to make matches. Pretty much anything Toad could do in that game, you can do here. There are some twists to the formula, but the biggest addition is an obvious one: support for up to four players via local split-screen or online. You can battle it out to see who can survive the longest. While the game lacks the level-based structure of its inspiration, you can play by yourself if you want and even unlock some goodies by doing so. I'll have a full review of this one later.
ToeJam & Earl: Back in the Groove ($19.99)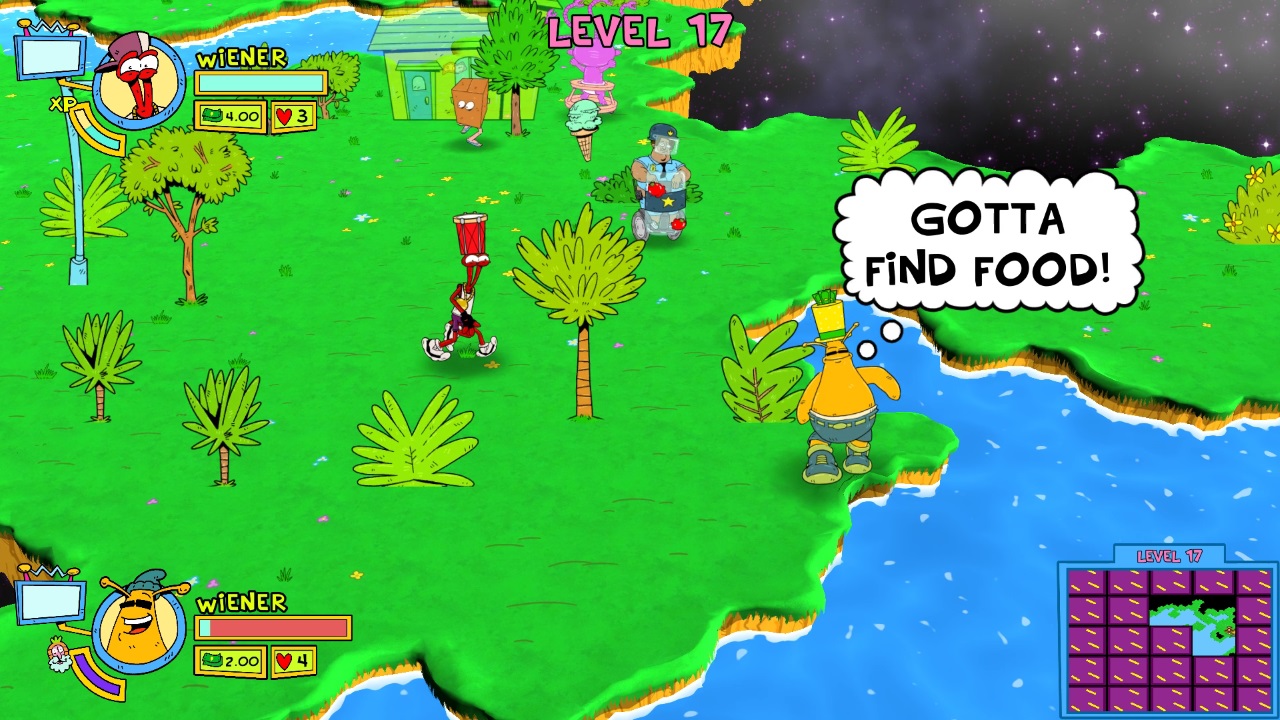 SwitchArcade Highlight!
Despite being relatively popular characters among gamers of a certain age, ToeJam and Earl have had a checkered history when it comes to the actual games. For its time, the original was a very odd game that some had trouble wrapping their heads around. The second game played it a little safer by switching to side-scrolling action, losing some of what made the original unique but still being quite good overall. The third game was kind of a disaster that didn't seem to properly follow up on either of the previous games' approaches. For this latest game, the original creator has brought things back to how they started. Funnily enough, it's pretty easy to describe the first game in today's language: it's a roguelite. And so is this! It's an excellent sequel, and I think that's the first time I can honestly say that about a ToeJam & Earl game. I'll be doing a full review of this in a few days, but if you liked the original at all, just buy this. No worries.
Tardy ($9.99)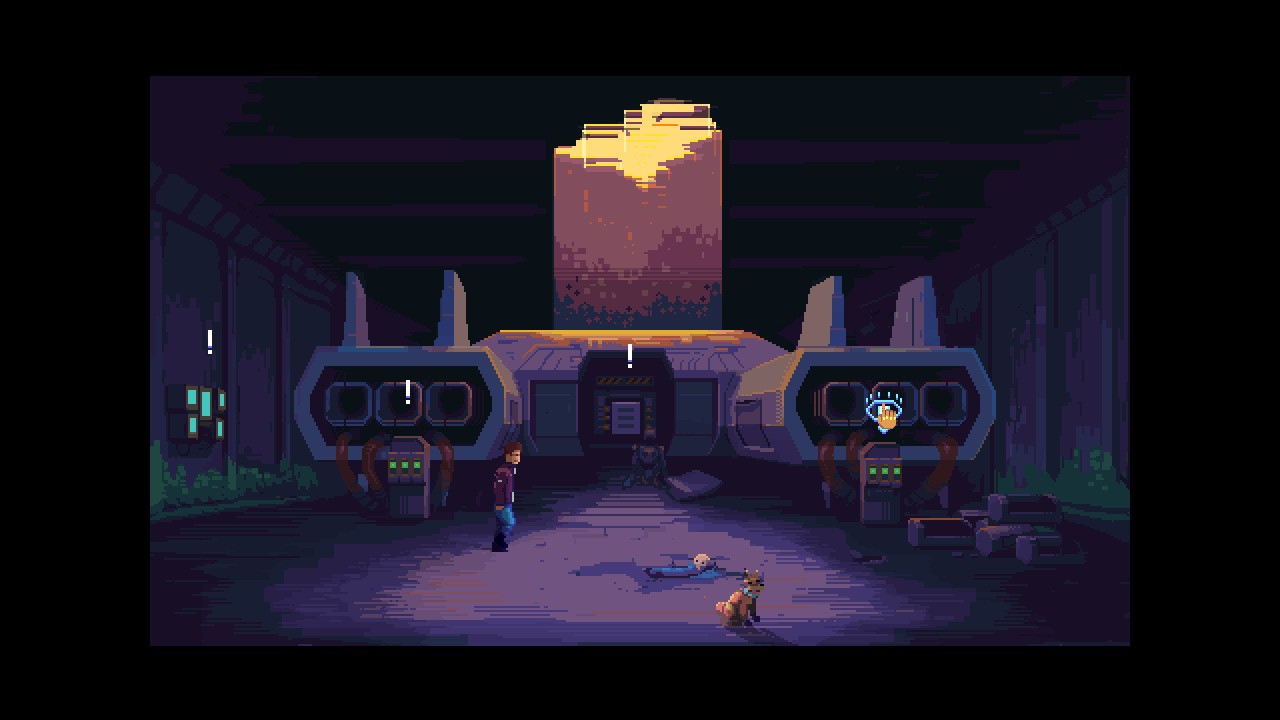 This is an attempt to create a new adventure game in the vein of classics like The Dig or the maddening Sierra games. It at least looks the part, with cool pixel-art that certainly evokes the era it's aiming for. As for the rest… well, the story isn't the most interesting around, and the puzzles are very much hit-or-miss affairs. It's also a bit short. If it had come out in the period it's aping, it would probably have fallen somewhere in the middle of the pack. I think for the price it's going for, you might find it a good pick-up if you have any fondness for vintage point-and-click adventures.
Swords and Soldiers 2 Shawarmageddon ($14.99)
SwitchArcade Highlight!
Coming in hot on the heels of the Switch release of the first game, this offers a big ol' second helping of what you saw in Swords and Soldiers. That means you get a hefty single-player campaign, three factions to play with in multiplayer, support for two players to go against each other in both local split-screen and online play, and some powerful new hero units that can be used to turn the tide in a pinch. It probably goes without saying, but if you enjoyed the original, this will not let you down. I'll have a full review of this one early next week.
Shred! 2 – Freeride Mountainbiking ($9.99)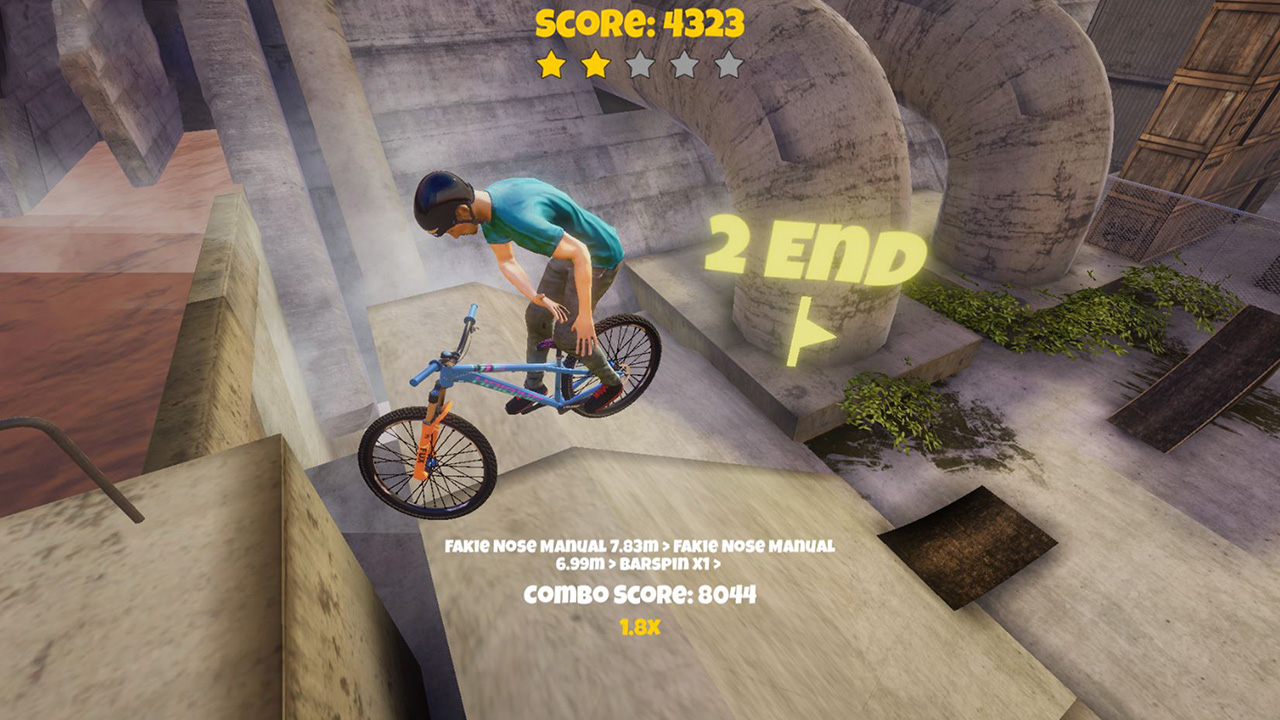 If Trials Rising wasn't enough to fix your rad biking fix for the week, I suppose you could do worse than this one. It's not the flashiest or most polished thing around, but it's pretty fun for what it is. Don't be fooled by the pseudo-3D look of the screenshots, though. It uses an interesting camera angle but the gameplay is straight-up 2D. You've almost certainly played games like this before, and you'll probably play more in the future, and there's no reason why this couldn't be one of that number. It's a little more expensive than the mobile version, but buttons are worth their weight in gold in trick-based games, so I'll give it a pass.
Queen's Quest 2: Stories of Forgotten Past ($14.99)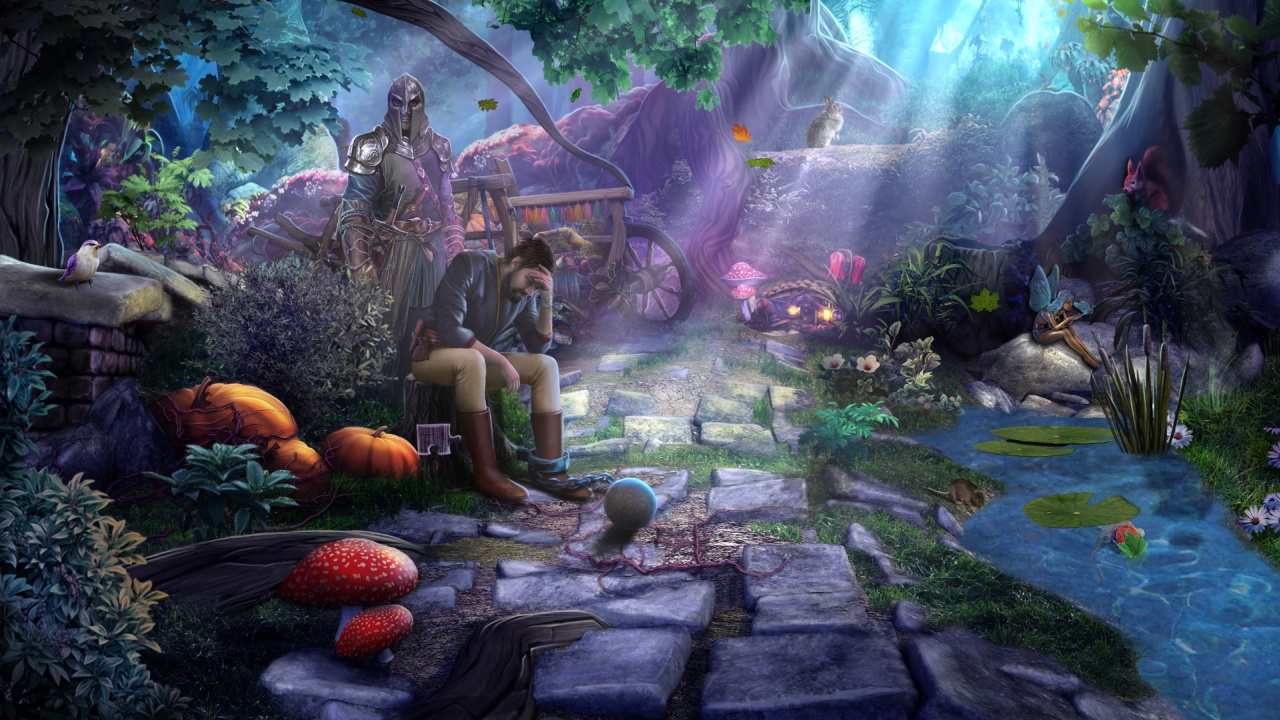 Yeah, it's another one of those Artifex Mundi hidden object adventure games. You're an alchemist in a fantasy world who also serves as something of a detective, because that's the genre, friends. You have the ability to shapeshift and you'll need to make use of that to solve the mystery. I'm not a big fan of these sorts of games, but this one seems to have decent reviews on the other platforms it came out on, so if you like any of this publisher's previous stabs at the genre you'll probably be into this one as well.
Pirates Pinball ($2.99)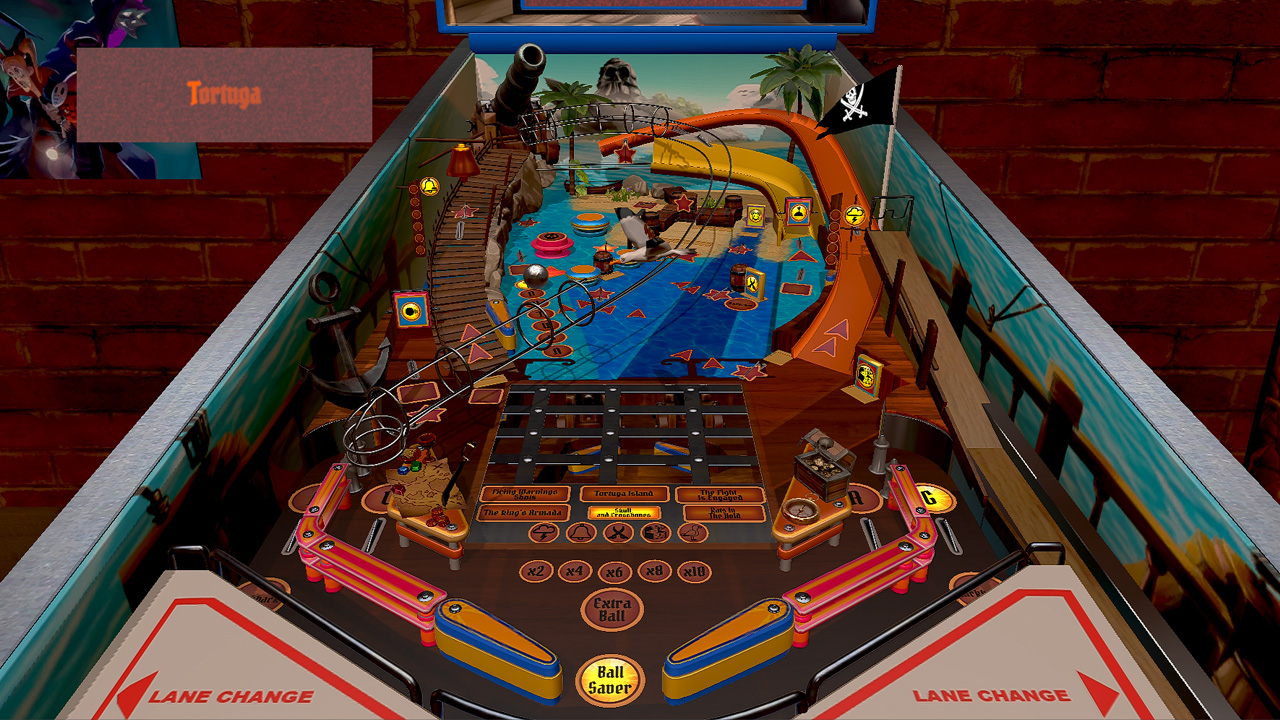 D'ar-har-har, me hearties. This be another one-off pinball game from the scurvy dogs at EnjoyUp, and I be expectin' it to be of similar quality to their other works. Which is to say, not real good, but yarr, just good enough for the amount of doubloons ye've got to plunk down. Alright, that's enough of that. It's a pretty plain table that in spite of the misleading description is actually completely original. You can probably pick up a better table from one of the other pinball apps on the Switch for only a little more money. But if you love pirates in pinball and are already tired of Black Rose, a couple of bucks probably won't kill you. BUT ME TERRIBLE PIRATE-SPEAK MIGHT, YARR!
Klondike Solitaire ($8.99)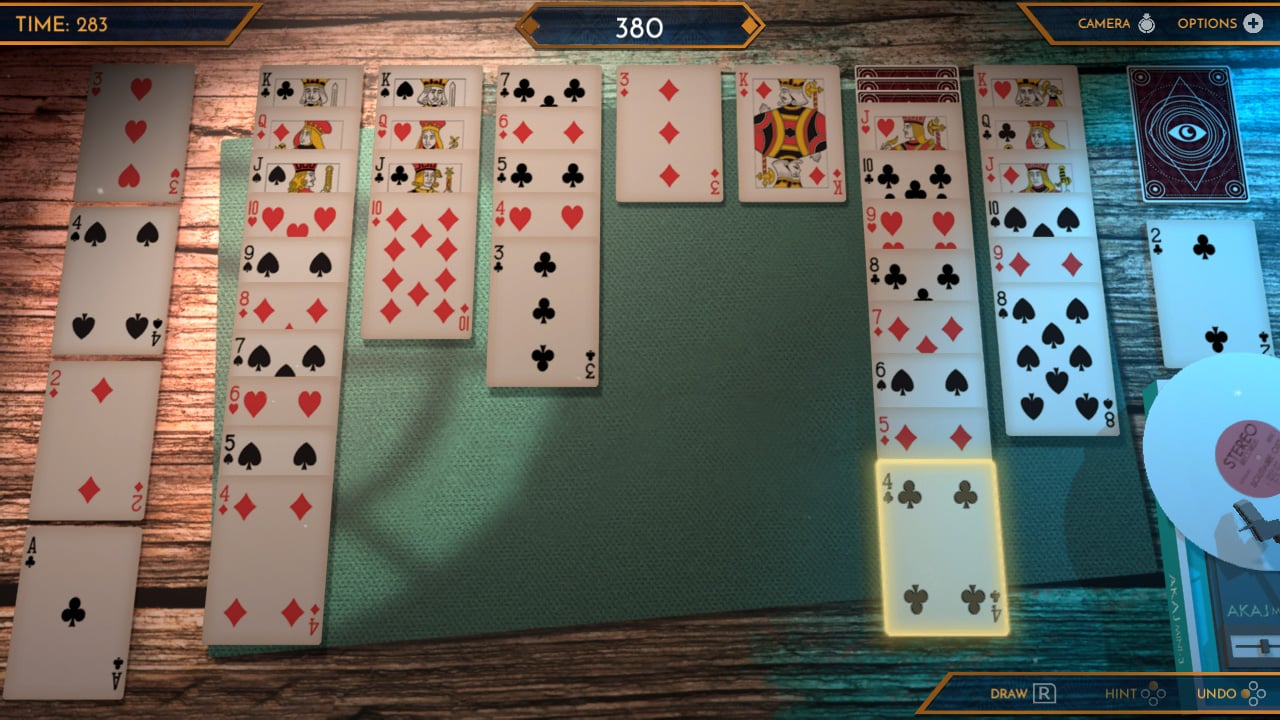 Alright, who is down for some Klondike Solitaire? See, here's the thing I don't get with these. I do enjoy a good game of Klondike, but I can't for the life of me ever imagine owning more than one game that simulates it per system. And there are already many such games on the Switch, so I suspect anyone who wants something like that already picked one up. I think the hook here is the relatively high-grade visuals, but… it's solitaire. I don't know. I'm sure it's fine for what it is.
History 2048 ($4.99)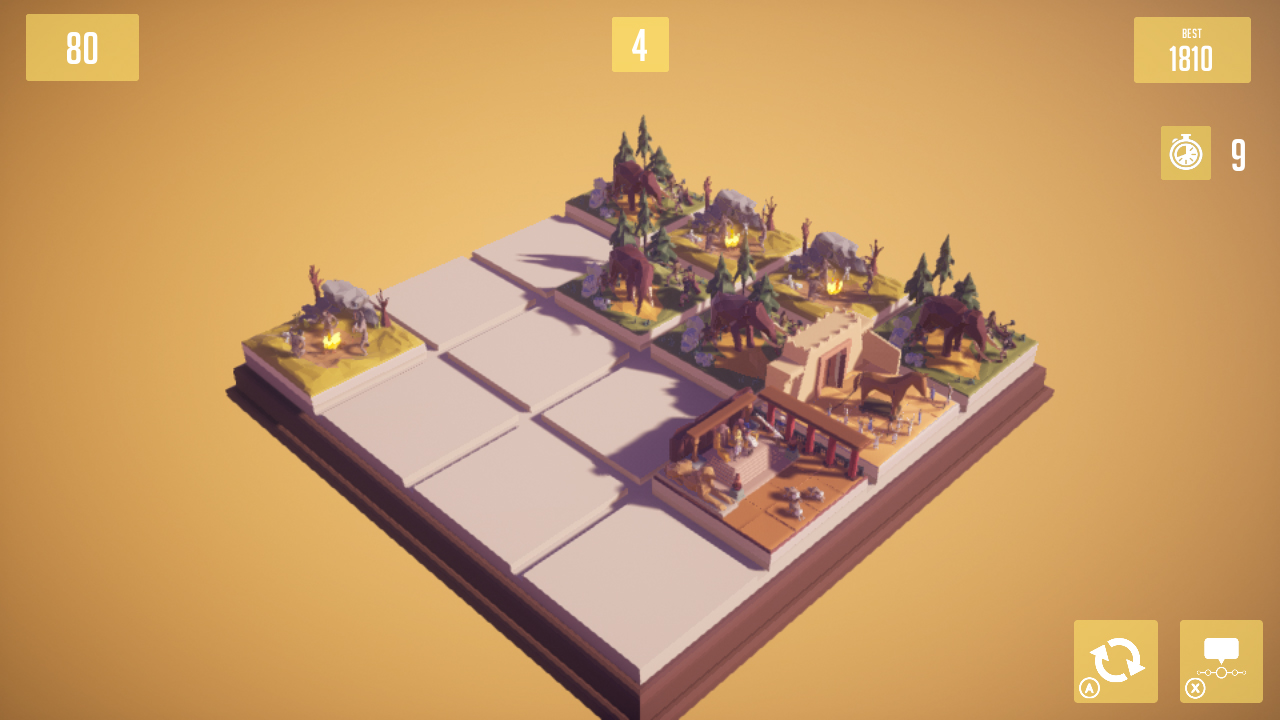 I wish Threes! were on Switch so I could tell you to just buy Threes! instead of one of the many games profiting off its creativity, but it's not, so I guess I'll take a different approach. Anyway, swipe the pieces around the board. Mash them together. They will make new pieces that will have to be smashed against similarly high-value pieces. This eventually gets tricky as the board fills up with high-value pieces of different sorts. The hook here is that instead of numbered tiles, you've got structures from human history. Play through different stages and see how humans progress into the terrifying virus we are today.
Creepy Road ($12.99)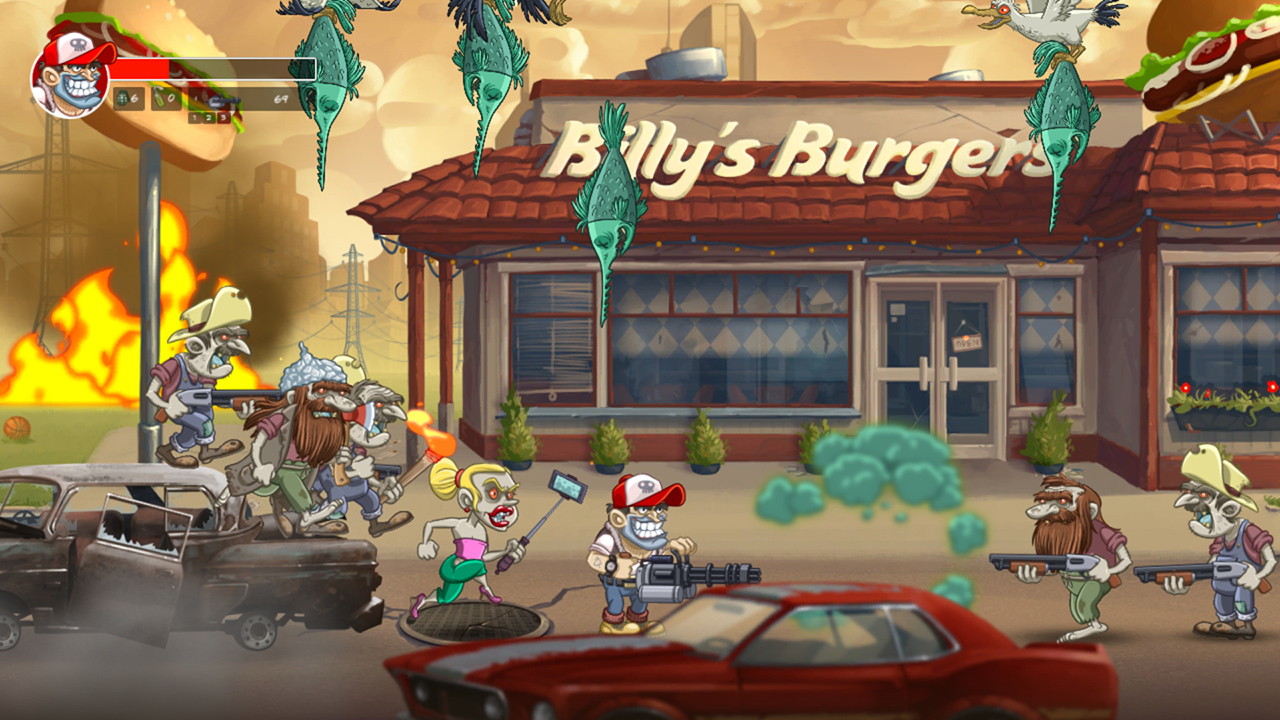 Well, this looks for all the world like a run-and-gun action game of mediocre quality. The kind of thing that would have been neat to find on a Flash site back in the day or something like that. It seems to be a bit janky but I suspect you could get a bit of fun out of it if you put your mind to it. Not sure I'd pay the price it's asking, but I would have said the same thing about a lot of games that have gone on to big success on the Switch. At the very least, it seems to pack in quite a bit of variety in terms of level settings and enemy designs.
Awesome Pea ($5.99)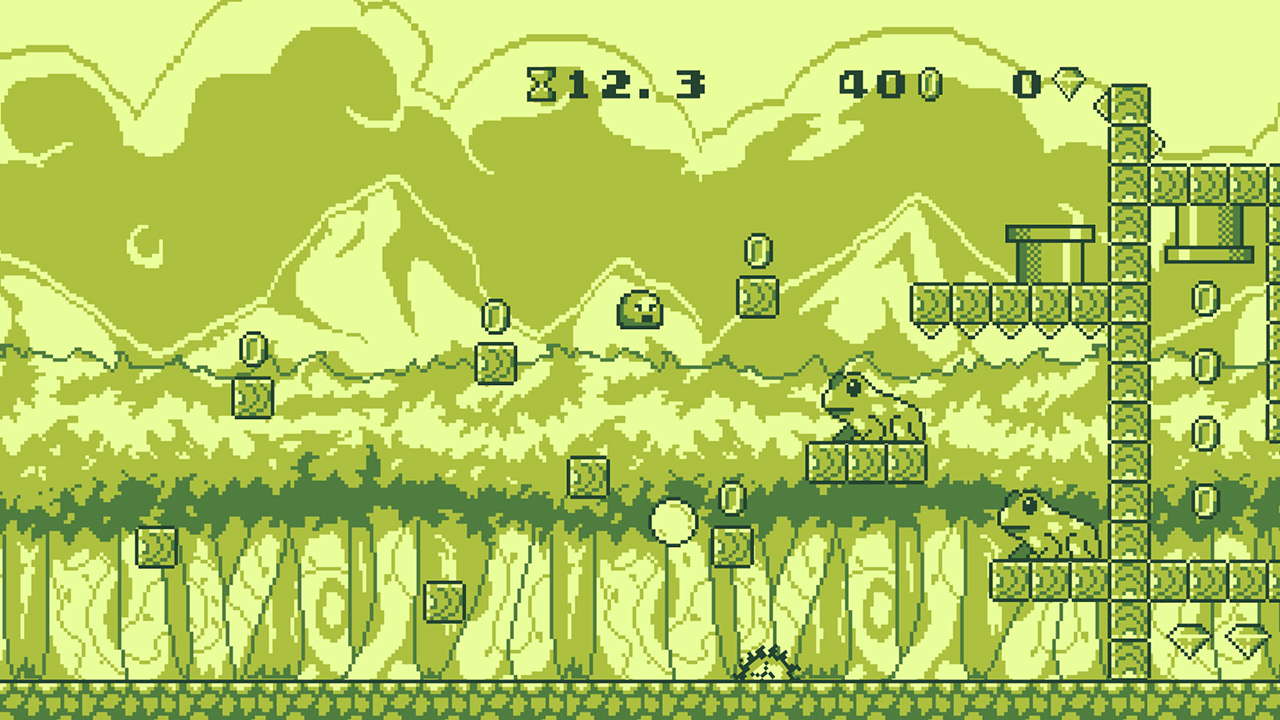 Ha ha, what a title. Well, I suppose if you're making a game that pays homage to the Game Boy, a pea makes a lot of sense as a main character. It's a platformer with 30 levels to it, which isn't a whole ton by any means, but probably enough for what this is. It's kind of weird, though. It's supposed to be imitating the Game Boy, but the screen filter has borders like a CRT television. The music doesn't sound very Game Boy-like, either. And the screen resolution is… you know what, I think I'm over-thinking this. If you want a modern-style platformer that looks vaguely like someone's memories of the Game Boy, you may well want to indulge in an Awesome Pea. It's got pretty good reviews on other platforms and I really doubt they biffed it up here.
Sales
Oh, my aching fingers. Well, a whole ton of games went on sale today, as I suspected might happen. The highlight is that almost every Ubisoft game is on sale, and that often extends to gold editions and such so keep that in mind before you buy. Also take note that both Supergiant games are on sale, and so is the pretty fun Blacksea Odyssey. Plenty to stock up on if you have the coinage for it.
New Games on Sale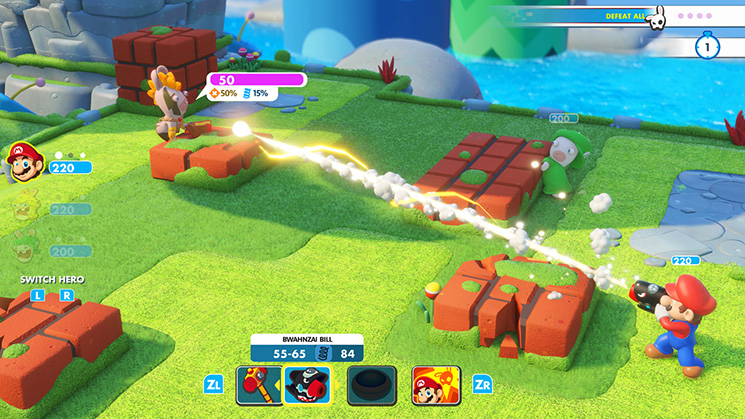 Mario + Rabbids Kingdom Battle ($19.79 from $59.99 until 3/14)
Green Game: TimeSwapper ($1.49 from $2.99 until 3/8)
Red Game Without a Great Name ($1.49 from $2.99 until 3/8)
Hard West ($16.19 from $17.99 until 3/7)
Rayman Legends Definitive Edition ($15.99 from $39.99 until 3/14)
Tower of Babel ($1.79 from $5.99 until 3/20)
Inversus Deluxe ($9.74 from $14.99 until 3/14)
Just Dance 2018 ($15.99 from $39.99 until 3/14)
Monopoly for Nintendo Switch ($15.99 from $39.99 until 3/14)
UNO for Nintendo Switch ($5.99 from $9.99 until 3/14)
Maria the Witch ($2.49 from $4.99 until 3/14)
Transcripted ($1.99 from $7.99 until 3/14)
Letter Quest Remastered ($2.99 from $10.99 until 3/14)
Nine Parchments ($5.99 from $19.99 until 3/14)
Slain: Back From Hell ($5.99 from $19.99 until 3/14)
Bleed ($3.59 from $11.99 until 3/14)
The Coma: Recut ($4.99 from $19.99 until 3/14)
Shu ($6.69 from $9.99 until 3/14)
Typoman ($7.79 from $12.99 until 3/14)
Bleed 2 ($4.49 from $14.99 until 3/14)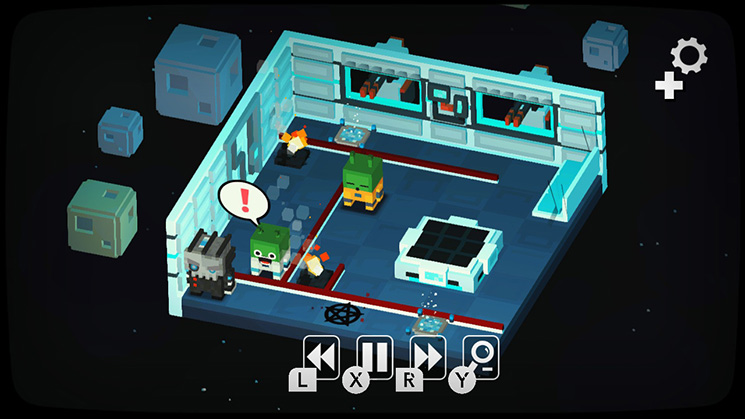 Slayaway Camp: Butcher's Cut ($4.49 from $14.99 until 3/14)
ClusterPuck 99 ($6.69 from $9.99 until 3/14)
Zotrix: Solar Division ($10.49 from $14.99 until 3/14)
Skee-Ball ($13.99 from $19.99 until 3/14)
South Park: The Fractured But Whole ($23.99 from $59.99 until 3/14)
Late Shift ($6.49 from $12.99 until 3/14)
Don't Die, Mr Robot! ($3.05 from $8.99 until 3/14)
Three Fourths Home: Extended Edition ($1.79 from $8.99 until 3/14)
Legendary Eleven ($6.99 from $9.99 until 3/18)
INK ($3.05 from $8.99 until 3/14)
Paranautical Activity ($1.99 from $7.99 until 3/14)
Hungry Shark World ($6.99 from $9.99 until 3/14)
Frost ($3.89 from $12.99 until 3/14)
Final Light, The Prison ($2.09 from $6.99 until 3/20)
1979 Revolution: Black Friday ($3.59 from $11.99 until 3/14)
Super Blackjack Battle 2 Turbo Edition ($0.99 from $7.99 until 3/14)
Unexplored ($5.10 from $15.00 until 3/14)
Spectrum ($4.07 from $11.99 until 3/14)
Hacky Zack ($1.99 from $9.99 until 3/14)
Fall of Light: Darkest Edition ($4.49 from $14.99 until 3/14)
The Mahjong Huntress ($1.24 from $4.99 until 3/14)
Nefarious ($5.09 from $14.99 until 3/14)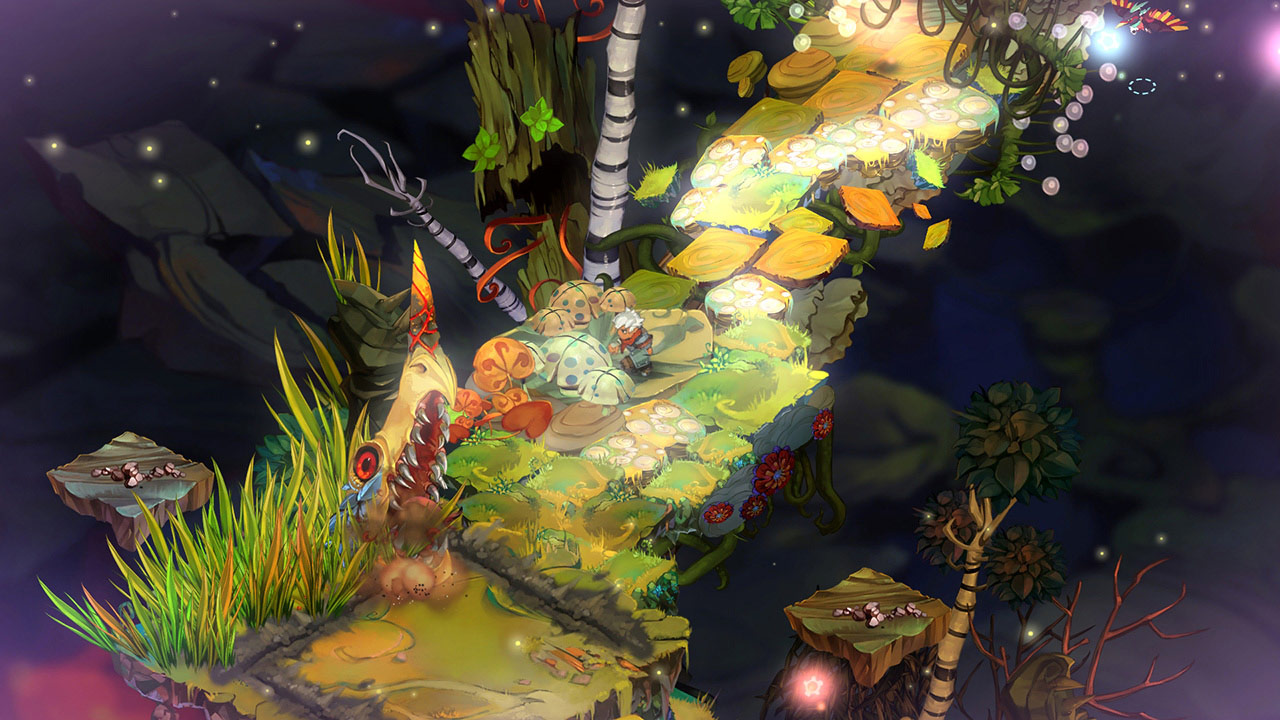 Bastion ($10.49 from $14.99 until 3/7)
Legendary Fishing ($14.99 from $29.99 until 3/14)
South Park: The Stick of Truth ($14.99 from $29.99 until 3/14)
Vertical Drop Heroes HD ($2.99 from $9.99 until 3/14)
Child of Light Ultimate Edition ($9.99 from $19.99 until 3/14)
Starlink: Battle for Atlas Digital Edition ($29.99 from $59.99 until 3/14)
Just Dance 2019 ($19.99 from $39.99 until 3/14)
Startide ($0.99 from $9.99 until 3/14)
Fly O'Clock ($0.49 from $1.99 until 3/14)
Wheel of Fortune ($11.99 from $19.99 until 3/14)
Sports Party ($19.99 from $39.99 until 3/14)
Risk Global Domination ($11.99 from $19.99 until 3/14)
Jeopardy! ($9.99 from $19.99 until 3/14)
Transistor ($13.99 from $19.99 until 3/7)
Valiant Hearts: The Great War ($9.99 from $19.99 until 3/14)
Sky Force Anniversary ($7.49 from $9.99 until 3/9)
Julie's Sweets ($8.49 from $9.99 until 3/14)
Blacksea Odyssey ($4.41 from $12.99 until 3/14)
The Office Quest ($5.99 from $11.99 until 3/7)
Bedtime Blues ($6.69 from $9.99 until 3/14)
#KILLALLZOMBIES ($13.99 from $19.99 until 3/20)
Fimbul ($26.99 from $29.99 until 3/7)
Just Dance 2017 ($15.99 from $39.99 until 3/14)
Magic Nations ($1.50 from $3.00 until 3/8)
Utopia 9 – A Volatile Vacation ($3.99 from $9.99 until 3/21)
Animus ($7.19 from $7.99 until 3/22)
Zombie Gold Rush ($4.49 from $4.99 until 3/22)
Robonauts ($0.86 from $8.69 until 3/18)
Sales Ending Tomorrow, Saturday, March 2nd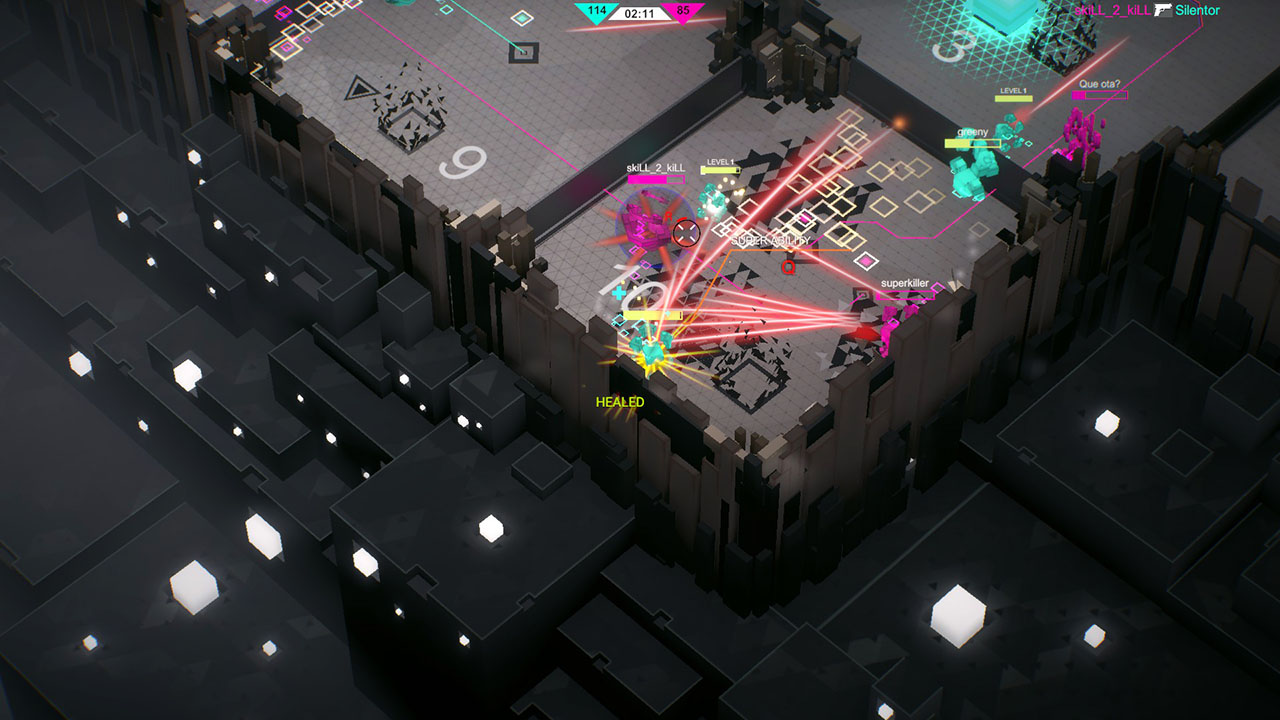 Deployment ($5.99 from $9.99 until 3/2)
Doodle God: Evolution ($5.24 from $6.99 until 3/2)
Photon Cube ($6.82 from $12.64 until 3/2)
And that'll do it for this week. So, what are you all buying from that big list of sales? Are you picking up any of today's new releases? And what gets your coveted attention for the coming weekend? Feel free to comment below and share your Switch life. As for me, I'l be back next week with the usual good stuff. Thanks for reading!
from TouchArcade https://toucharcade.com/2019/03/01/switcharcade-round-up-pauline-comes-to-mario-tennis-aces-toejam-earl-and-todays-other-new-releases-ubisoft-sales-and-more-discounts-and-more/