It's the first major update since Pete's Item Delivery and Blathers' Maps, and that means the Animal Crossing: Pocket Camp (Free) is expanding just a little bit more. The update was applied during a few hours of downtime yesterday; players will need to update the game via the App Store or Google Play, and will then need to update again via the game. This update brings Happy Home Academy to the mobile world of Animal Crossing, a feature long-requested by fans of the series. There are also a handful of other things that have changed.
Happy Home Academy joins Animal Crossing: Pocket Camp via the Happy Homeroom, accessible for players Level 6 and above via the game's map. You essentially decorate rooms according to design briefs, coming from your campers. Lottie calls each of these briefs a "class." In the room, there will be several spots lacking a specific type of furniture. Pick the best of that category to make the camper a, well, a happy camper! The game automatically puts their favorite item at the beginning of the list, so it's a relatively quick and painless process.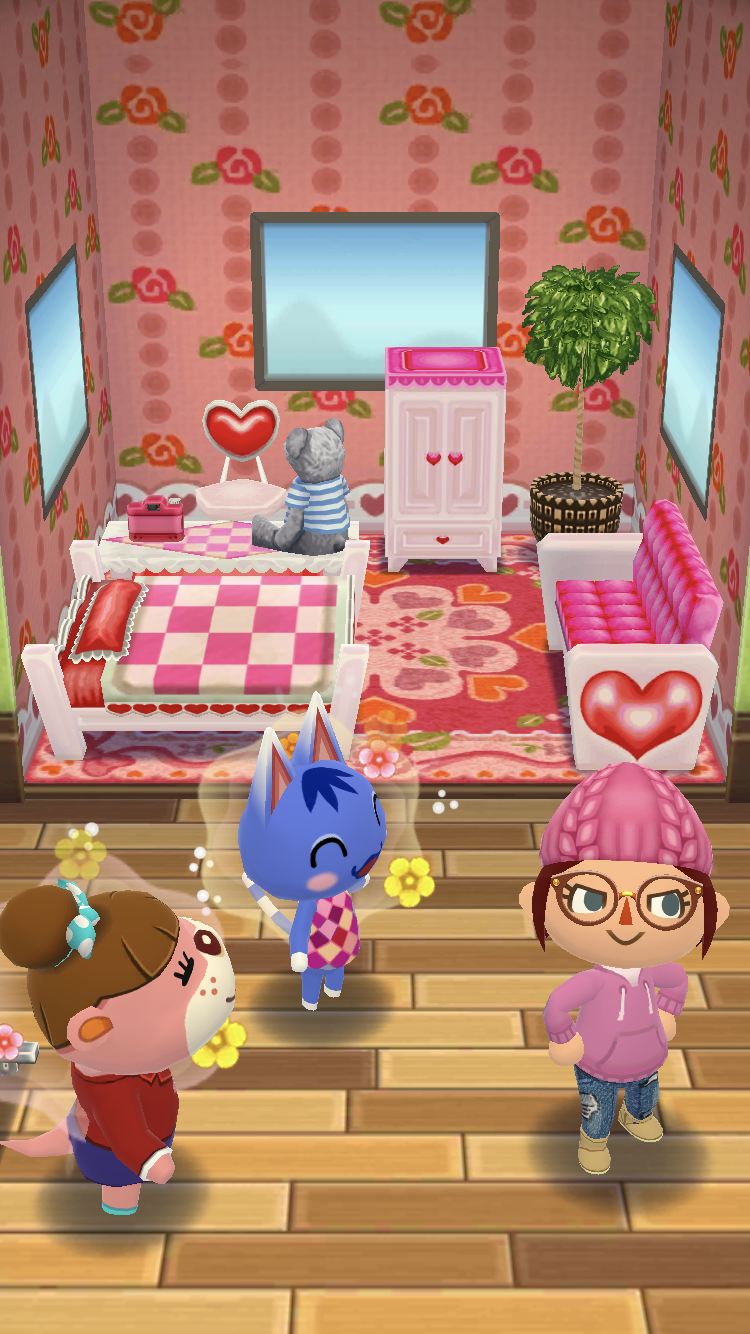 Don't expect to waltz in and complete everything at once, though, unless you're willing to spend an arm and a leg's worth of Leaf Tickets (the game's premium currency). Each player gets three HH Vouchers per day, and each class costs one voucher (at least, it has as far as I've gotten in less than one day). Based on the judges' score, you'll receive an amount of HH Material, a blandly-named crafting material represented by a fancy red and gold sack.
Interestingly enough, this is the update where Golden furniture finally makes its appearance in Animal Crossing: Pocket Camp. Three items can be crafted using an obscene amount of materials, as you can see here:
Golden Closet: 990,000 Bells, 300 Cotton, 100 Elegant Essence, 20 Sparkle Stones, 15 HH Material
Golden Table: 990,000 Bells, 300 Preserves, 100 Elegant Essence, 20 Sparkle Stones, 15 HH Material
Golden Chair: 990,000 Bells, 300 Wood, 100 Elegant Essence, 20 Sparkle Stones, 15 HH Material

While the addition of Happy Homeroom is the most obvious new feature, there are some others worth mentioning. My favorite is the new ability to collect all of your goal rewards at once, instead of one at a time. You can also now scroll through the goal screens to see what lays ahead, or what you've already completed. And accessing the Fortune Cookie Shop is easier than ever thanks to an icon on the map. There were also a few item name changes and some bugs squashed by this latest version, as well as updates to the title screen and app icon. To thank players for their patience, there's a gift of 20 LT waiting in your mailbox!
With the update out of the way, it will soon be time to focus on next month's events – except a colorful theme to represent the changing seasons! For now, you can spring into spring a bit early with some premium-currency clothing items available, as well as some stunning new Fairy Forest terrain options (also costing LT).
from TouchArcade https://toucharcade.com/2019/02/27/happy-home-academy-arrives-with-animal-crossing-pocket-camp-update/