With Mobile World Congress now pretty much over and done with, we've got a little bit of tech to talk about in this week's Arena of Valor roundup.
On top of that, it's skins, eSports, and presenter talk this time around, while people on Reddit prove once again that they can't read by complaining about the new quarterly AoV Prime reward.
Huawei Mate X Folding Phone Handles Arena of Valor Well
If you're playing a mobile game as much as Arena of Valor, you probably like hearing about the latest and greatest smartphones. It's a rapidly advancing market, and the focus this year has undoubtedly been on the idea of the folding phone. While Samsung may have taken the spotlight with their less than stellar approach and price tag, The Mate X from Huawei is clearly the one to watch for Arena of Valor players at this point in time.
Why? Because we're already able to see how the world's biggest mobile MOBA performs on the new tech. Fans of Tech YouTuber Dave Lee were treated to this snippet of the Chinese version of Arena of Valor being played on the device.
In it, things seem pretty normal as the game is played in the fairly standard widescreen format before the user folds out the rest of the phone's bendy display, causing the game to immediately switch to a far taller aspect ratio to fill up the additional screen space. It's completely seamless in more ways than one, but by god is it expensive at $2,600.
This isn't something we're urging Arena of Valor players to go out and buy; it's just nice to see our favorite game being used to demonstrate the kind of tech that's about to revolutionize the mobile/wearable market.
Sakura Fubuki: Full Moon Airi Makes A Surprise Appearance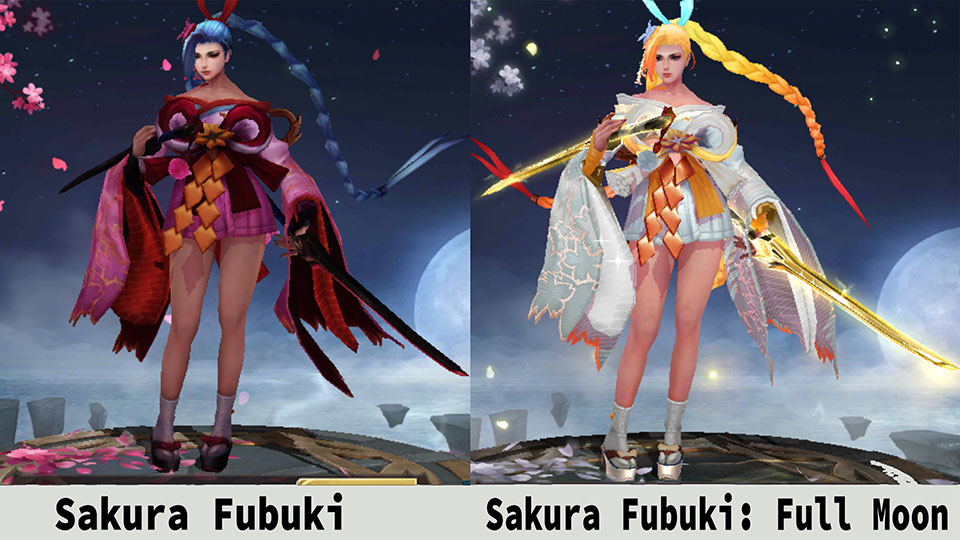 Shown off between practically every match at last year's Arena of Valor International Championship, Airi's Sakura Fubuki: Full Moon skin release date was confirmed this morning. It's out now, basically.
A recolored version of Airi's original Sakura Fubuki skin from last year, this one swaps out the pink/red/blue charm of the old version for pink and gold with a hint of baby blue in her hair ribbon. Though do please note that I'm partially colorblind, so that basic description could be 100% incorrect. Just look at the comparison image above!
Now for the bad news. You can't buy it. The "good" news, however, is that rather than being a Pendant Shop exclusive or buried deep in the Magic Draw thing, the Sakura Fubuki: Full Moon skin comes from the Lucky Draw – so you have about a 5% (or 2.5%?) chance to grab it. Ok, that's not good news for those who're somehow hoarding pendants, but it's a better deal for those without one.
Violet Gets TWO MORE skins While Amily Gets Her First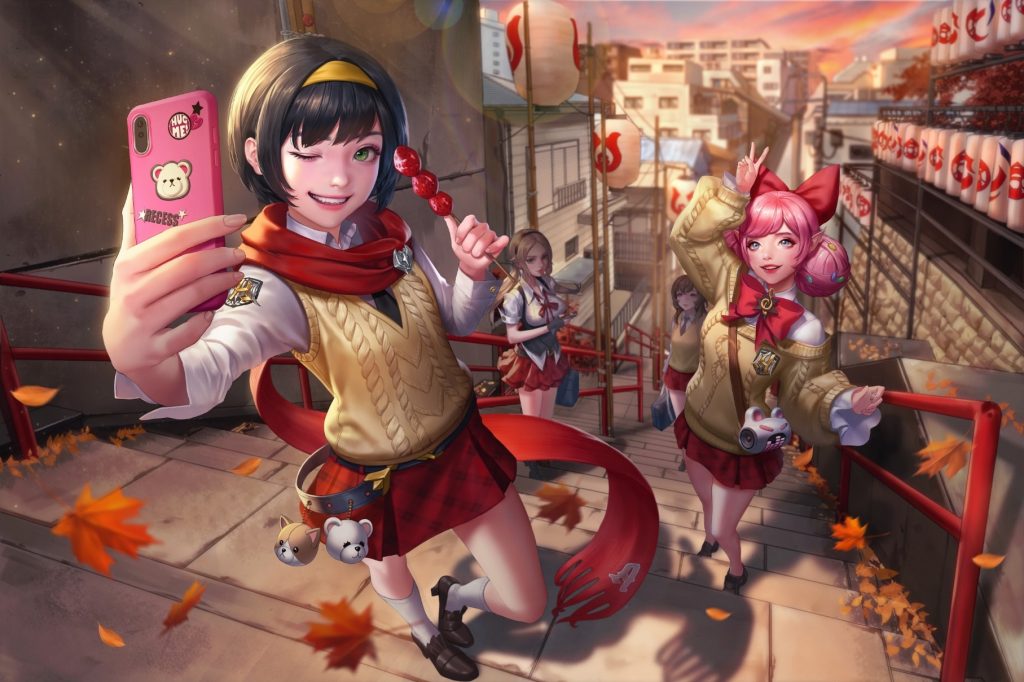 Speaking of the Pendant Shop, the Trigger Happy: Golden Dragon alternate skin released from Violet around the New Year has made a grand reappearance as a Pendant Shop buy, giving players with deep pockets another chance to grab the game's first animated character selection skin.
Onto another skin that wants your hard-earned money, Violet's "First Love" skin – and the last of the January update leaks – arrived right on schedule. Available by picking up a new 3-month subscription to AoV Prime, it's Violet's own take on the Academy skin series, putting Violet back into her school uniform while retaining her confident voice and massive pistols. Yep, there are no themed voice lines here; Violet doesn't just become some cutesy schoolgirl with this regressed getup. Heck, she's even still wearing heels. What kind of school allows heels?
And lastly, there's "Personal Assistant" Amily – though she's looking more like a bodyguard in this one. Available for 1,199 Vouchers, this is Amily's first new alternate skin since her debut late last year. Just like Violet's new First Love outfit, there's nothing new here other than the clothes on her back. No new abilities effects, voice line, or even a fully animated character intro.
Tomorrow's Valor Series Stream Sees The Return Of A Familiar Face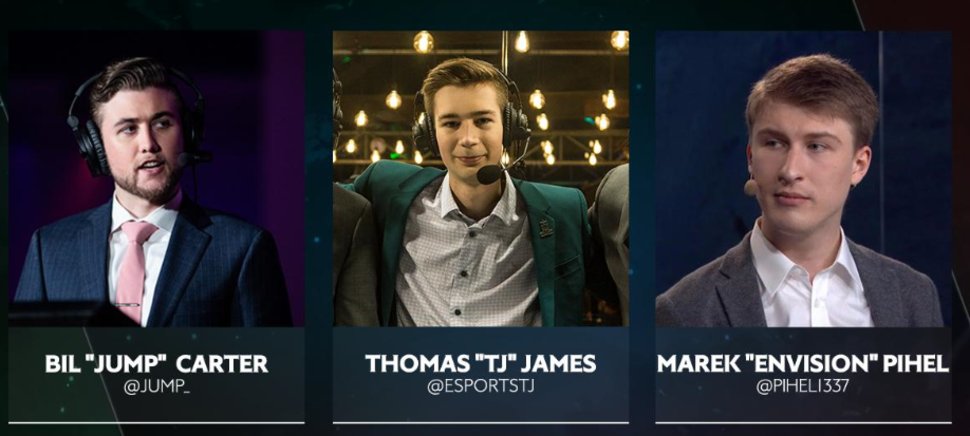 With four weeks of Valor Series behind him, Arena of Valor caster and analyst Dtwo bid farewell to the UK studio to fly back to his home in Japan. But the trio of casters we've seen on stage these last few weeks is set to continue by way of a familiar face taking up the space left by who TJ recently referred to as "the best".
Marek "Envision" Pihel joins the team for the Valor Series broadcasts going forward, who you may have seen casting the ESL Go4 cup tournaments last year. The self-proclaimed Flash one trick will certainly have some words to say should anyone pick the character in any match going forward.
Valor Series Underdogs Defeat The Undefeated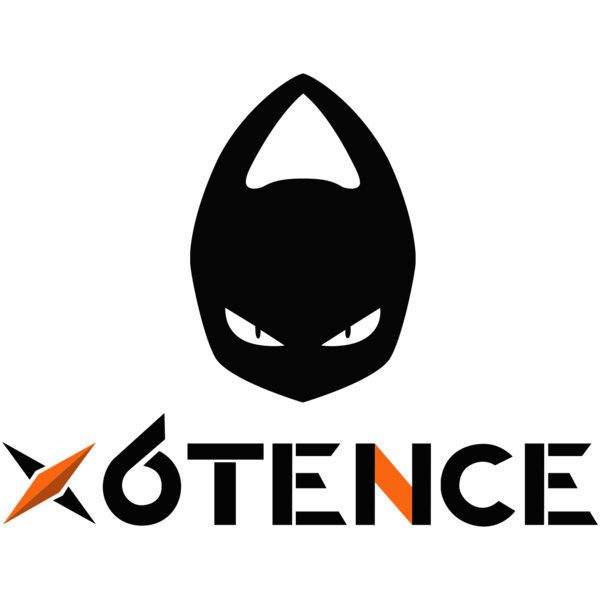 Ending on the Valor Series talk, I'm here to say I told you so when it came to last week's "Match To Watch" segment that totally came out of thin air – a team with 0 wins under their belt toppled the only undefeated team in the Valor Series league.
Yes, that's right. After a shockingly disappointing 0-8 score in the first three weeks of the competition, EU team x6tence managed the impossible by coming back from their ninth defeat to trounce the Nova EU, the only team to be on the complete opposite of the scoreboard before then. Though it really could have been a case of Nova EU pulling a classic tortoise and the hare scenario against the Valor Series underdogs, I'm not qualified in match analysis enough to say x6tence didn't deserve the win.
By comparison, the polarizing match to watch this week will be North America's PrideStark Empire vs YD Alpha on Saturday.
We'll see you back here next week to talk all about that.
from TouchArcade https://toucharcade.com/2019/03/01/arena-of-valor-news-aov-folds-x6tence-kicks-butt-and-envision-joins-the-team/